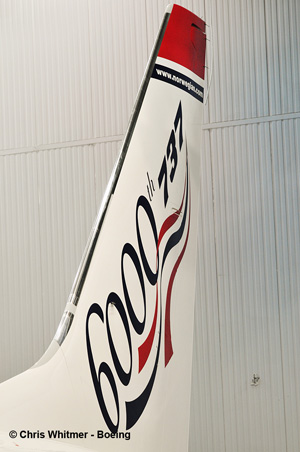 Boeing's 6000

th

737.
Publisert: 14.05.09








There has been many billions of water that has slowly made its way down the Cedar River, passing Renton Field (renamed Clayton Scott Field in 2005) and the Boeing buildings at Lake Washington's south shores. Since the first B737-130 model was towed out of the Renton factory doors on Lake Washington waterfront in March 1967, until March 23rd 2009 when 737 number 6000, a B737-8Q8 was towed out, almost 42 years had then passed by.













737 number 6000 produced, has this key numbers:

Doors on Boeing Field - P5 Paint Hangar, open for the first time April 6. 2009.
The first flight for the Boeing Company's model 737-130 was from Renton Field on April 9th 1967, flown by Brien Wygle & Lew Wallick. There would only be 8 days missing on exactly 42 years between the B737-130 and when R.A Austin and D.J.Formento departed Renton Field on April 1st 2009 on callsign BOE196 on Flight Boeing 1 – B1 with B737 # 6000.

Before departure from Renton Field, there had been applied two large "6000" with black permanent marker on the fuselage green spray latte (the green water washable vinyl coating that is on the airplane skin that is washed of before paint) below the cockpit windows. When the airplane landed at Boeing Field everyone could see that this was 737 # 6000.

Capt R.A. Austin that flew the BOE196 had a very impressive flight record, he has:

Norwegian's Technical rep at Boeing, Atle Straume, posing at the tail of LN-NOL after finishing the post paint inspection.
LN-NOL incorporated two changes to the Norwegian livery. This was the first Airplane to front the new web address;
www.norwegian.com
delivered from Boeing and it also has the 600

0

th
737 Logo on the vertical fin. The "6000
th
737" logo are painted on, not 3M aircraft foil film as you might think it is.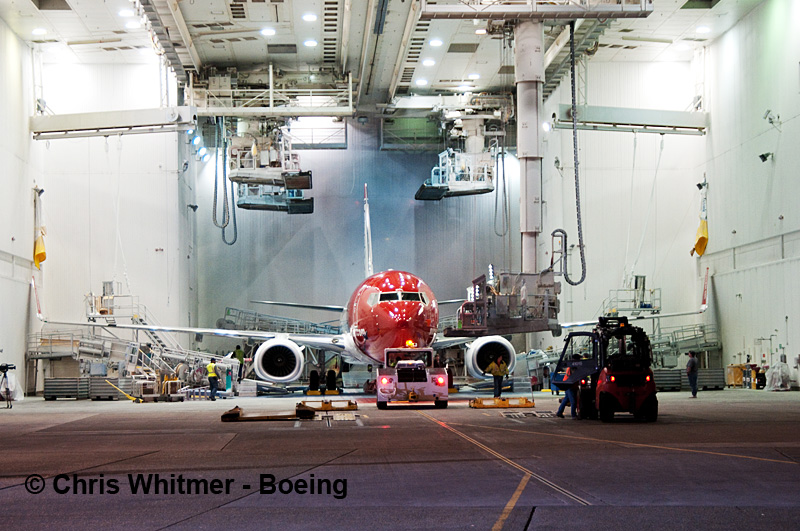 LN-NOL being prepared to be towed out from P5 paint hangar at Boeing Field.
If you look closely there is not much clearance at the outside of the Winglets and Paint Hangar walls, even after modifications to incorporate winglets equipped airplanes there are barely 2" clearance on each sides. To prevent any damage during pre paint docking and towing to Field after paint. The main wheels and nose wheels are on carts that are guided by rail tracks in the floor. This keeps the airplane at the same position until the main wheels / Winglets are clear outside of the Hangar.

You can clearly see the MLG Rail Carts on this photo.

Taxing for takeoff position at 11:35am on April 7. 2009.

Shiny new paint as BOE196 take off northbound from Boeing Field on its B2 – Boeing 2 flight on April 7. 2009.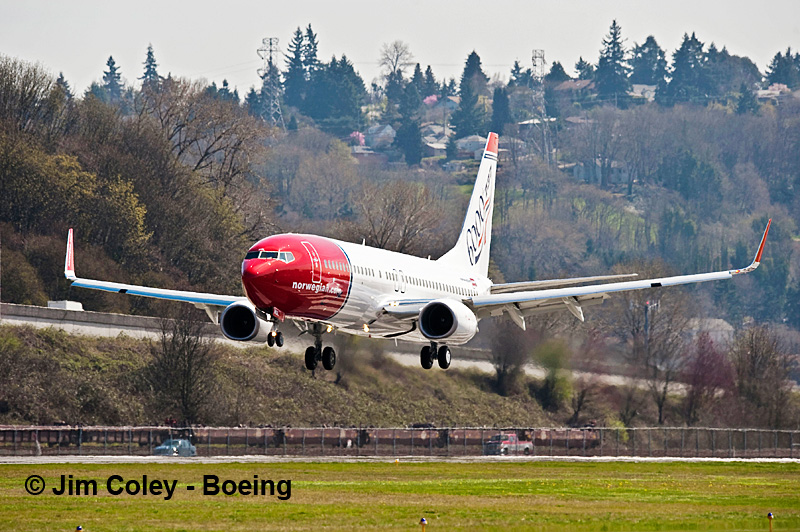 Just before landing flare at Boeing Field, 12:50pm on April 7. 2009.

Looking up on the painted "6000th 737 logo" as a Boeing 737-800
(later to be delivered to EL-AL) takes off and fly over for a Boeing flight (pre paint) from Boeing Field.

Takeoff for the delivery flight from Boeing Field Seattle, KBFI to Oslo Airport Gardermoen,
ENGM on callsign Norshuttle 6000 (NAX6000) at 14:20pm on April 16. 2009.
Links:

Boeing News: http://boeing.com/commercial/news/2009/q2/090416b_nr.html

Museum of Flight: http://www.museumofflight.org/aircraft/boeing-737-130

Photo credits & especially thanks to;

Chris Whitmer, Boeing Customer Engineering
&
Jim Coley, Boeing Photo Group
Atle Straume – Norwegian Air Shuttle ASA.